Our Class!
This is our class!! From left to right: Jorge Guerrero (Mexico), Jesus Olea (Mexico), Laura Moord (Panama), David de Jesus (Mexico), and Fortino Espana (Mexico).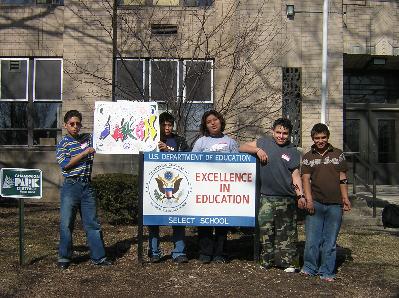 Our School!
We are all students at Central High School. Central High School was constructed in 1953. An addition and extensive renovation was completed in the fall of 1998. Central's staff is proud of its safe and orderly learning environment. Central is a two time Recipient of the prestigious "Excellence in Education Award" sponsored by the United States Department of Education, the only high school outside of the Chicago area to be recognized on two different occasions. Central has 1,300 student currently enrolled. We also enjoy of great diversity, students from over 40 nationalities attend our school!!
Central High School History!
Champaign High School, now Champaign Central High School, began serving the public in 1870. The present school site, 610 W. University Avenue, was donated by J.P. White to the public schools of Champaign in 1868 and has housed Central High School since 1956. During the 1965-66 school year, approximately 550 sophomores attended classes in the first phase of the Senior High School Annex. They attended classes on the same schedule as those at Champaign High School. The 1966-67 school year found an equal distribution of sophomore and junior students at both Champaign Senior High School and the Annex. So in 1968-69, the Champaign Board of Education officially established two district high schools, Central and Centennial. On April 1, 1997, the taxpayers of Champaign approved a bond issue that included an addition and extensive remodeling to Central High School. The main features of the new addition and remodeling were a large modern media center, a child development/day care center, foods laboratory, an expanded student services area, and three large state of the art biological science laboratories. An open house and dedication of the new facilities was held on September 13,1998. Central's mascot is a maroon, Max Maroon, to be exact and the school colors are maroon and white. Central is also the first high school to win 500 football games and 1,000 basketball games in the nation.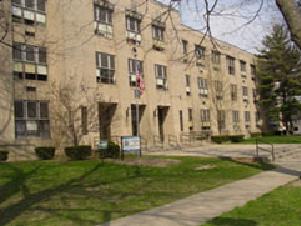 Places to Visit in Champaign
Today the majestic Virginia Theater has returned to her greatness thanks to the efforts of the Champaign Park District. Today you can watch live concerts, musicals, classic movies, recent release blockbusters, and comedy while taking in the atmoshere unmatched in Champaign-Urbana.
Boardman's Art Theater has also returned showing art and documentary pictures. With its cutting edge picture and sound equiptment, this intimate setting is the perfect place to broaden your perpective on the movie industry.
If movies aren't your thing, but still want to enjoy that theater atmosphere the Highdive on Main Street is your spot. The former Varsity/Illini Theater has been converted into one of Downtown Champaigns greatest music venues. This large venue plays host to local and visting bands nearly five nights a week.
If you are looking for history and an education, you should check out the Orpheum Children's Museum. Using the space once know as the Orpheum Theater, this childrens muesem host numerous displays geared to engaging the childs mind. Supporting the Oprheum will not only engage your child but will also help to save one of the greatest theater spaces left unrenovated in a hundred mile radius.